D2 PRICE REDUCTIONS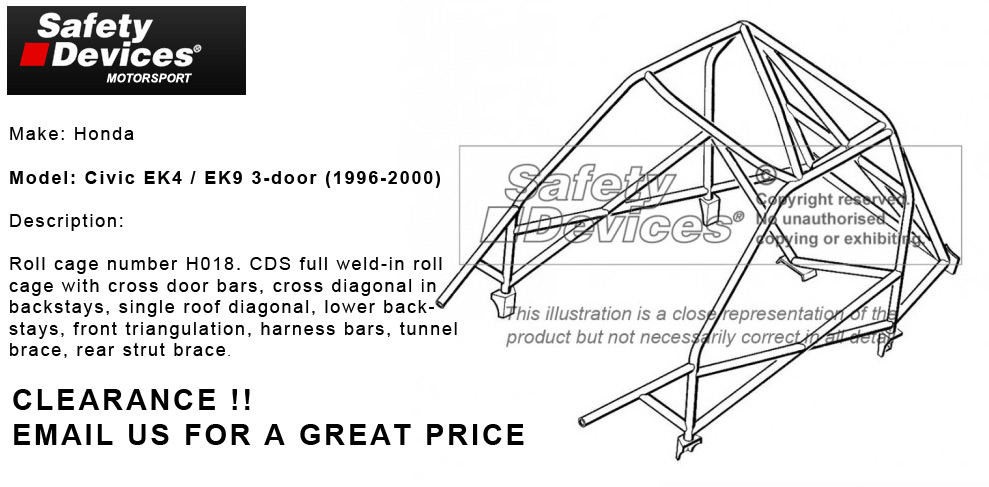 CC-HC-9600-CDS HONDA CIVIIC EK4/9 8 POINT FIA CAGE
We are clearing out some stock, cost price is £550 + VAT, make us an offer!!
NEW - MX5 CAMBER ADJUSTMENT
After a year in developing and testing we have the finished production of M2 MX5 camber kits.
M2 Motorsports working with leading MX5 tuning experts have produced camber kits for MX5 MK1-2, allowing a huge range of possibilities un available from other brands.

M2 MOTORSPORT K20 INLET MANIFOLD - 2018 V2
S2000 EXHAUST REDUCED - SEE TRADE PRICES
Prices have already been reduced on the site, no need for an extra coupon..
TK002-CRZ11 / CRZ 11-ON TAILGATE SPOILER MUGEN STYLE

£104.40

MANUFACTURER : M2 Motorsport

UNIT QUANTITY : 1

SPECIFICATION : Rear Spoiler

COLOUR : Self Colour

MATERIAL : Hard ABS Plastic

MODEL YEAR : Honda CRZ 2011 0nwards

Hard PU accurately moulded body panel that can easily except modern plastic primers for re finishing by professional auto body technicians.CRZ 11-on Tailgate Spoiler Mugen Style Hatchback Trunk Spoiler Fits 2011-2015 Honda CR-Z CRZ | Mugen Style Unpainted Gray ABS Added On Rear Hatch Deck Lip Wing by M2 MOTORSPORTS

find out more

M2-MHD-9601-P / CIVIC EG EK DC2 STAINLESS STEEL CENTRE SECTION (no muffler) see notes

£142.80

MANUFACTURER : M2 Motorsport

UNIT QUANTITY : 1

SIZE : 60.1mm

SPECIFICATION : None Muffler Centre Section

COLOUR : Polished

MATERIAL : 304 Stainless Steel

MODEL YEAR : 3 Door Civic 1992-2000

M2 Motorsport.This centre section come with flat face gaskets and bolts it does not come with a fire ring the fire ring kit is available separately and the OEM fire ring can sometimes be removed from the original OEM system but not always. This part is usually bought with these 3 other rear mufflers - M2-HRN-EGEK-RB (loud) M2-TOD-EGEK-RB M2-SPN-EGEK-RB or M2-HD-EGEK-RB

find out more

M2-MHD-9601H / CIVIC EG EK DC2 STAINLESS STEEL CENTRE SECTION (with muffler) see notes

£159.60

MANUFACTURER : M2 Motorsport

UNIT QUANTITY : 1

SIZE : 60.1mm

SPECIFICATION : Muffler Centre Section

COLOUR : Polished

MATERIAL : 304 Stainless Steel

MODEL YEAR : 3 Door Civic 1992-2000

M2 Motorsport.This centre section come with flat face gaskets and bolts it does not come with a fire ring the fire ring kit is available separately and the OEM fire ring can sometimes be removed from the original OEM system but not always. This part is usually bought with these 3 other rear mufflers - M2-HRN-EGEK-RB M2-TOD-EGEK-RB M2-SPN-EGEK-RB or M2-HD-EGEK-RB

find out more

CCI-10045-1620 / COMPETITION CLUTCH MX5 MIATA NA NB 1.8 BP B6 STAGE 4 CERAMIC

£322.36

MANUFACTURER : Competition Clutch

UNIT QUANTITY : 1 Clutch Kit

SPECIFICATION : Stage 4 - 450 BHP

MATERIAL : Ceramic

MODEL YEAR : MX5 MIATA NA NB 1994 - 2005

The Competition Clutch Stage 4 – Strip Series 1620 Clutch Kit available with a double spring six rivet carriage is good for ease of gear transition with higher horsepower. This disc complimented by a performance pressure plate provides 250% increase in torque capacity. The 1620 Series kit includes a performance pressure plate a six puck high torque sprung disc with Ceramic buttons all applicable bearings and the appropriate alignment tool.

find out more

ULF1-1575-1GS / ULTRALITE F1 - 15 x 7.5 INCH - ET30 - 100 x 4 PCD - GLOSS SILVER

£82.80

MANUFACTURER : Ultralite

UNIT QUANTITY : 1

SIZE : 15 x 7.5 INCH

SPECIFICATION : ET30 - 100x4 PCD 6.5 Kg

COLOUR : Gloss Silver

MATERIAL : Aluminium

find out more

M2-SPN-EGEK-RB / CIVIC EG EK REAR MUFFLER FOR 3 DOOR HATCH BACK - SPOON SPORTS STYLE

£165.60

MANUFACTURER : M2 Motorsport

UNIT QUANTITY : 1

SIZE : 60.1mm

SPECIFICATION : 65mm External Rolled Tip

COLOUR : Polished Stainless

MATERIAL : 304 Stainless Steel

LINK : Fits 1992- 2000 3 Door Hatch b

M2 Motorsport. Stainless steel rear muffler back box looks similar to Spoon N1 fits OEM Honda centre section and also M2 Motorsport part number M2-MHD-9601H (with resonator) or M2-MHD-9601-P ( no resonator ) . Polished stainless steel tig welded back box with 65mm tail pipe. Fits the Honda Civic 3 door hatch back cars. EG3EG4 EG5 EG6 EJ9 EK1 EK3 EK4.

find out more

TW-HR73561 / 56.1 MM SPIGOT RING FITS A 73MM WHEEL

£3.06

MANUFACTURER : Ultralite Wheels

UNIT QUANTITY : 1 Spigot ring

SIZE : Fits 56.1MM Car Hub 73mm Whee

SPECIFICATION : Centre Ring

MATERIAL : Plastic

find out more

M2-TOD-EGEK-RB / M2 MOTORSPORT TODA DOLPHIN STYLE EG/EK REAR MUFFLER

£177.60

MANUFACTURER : M2 Motorsport

UNIT QUANTITY : 1

SIZE : 60.1mm / 65mm tip

SPECIFICATION : Rear Muffler

COLOUR : Polished / Flamed Blued

MATERIAL : 304 Stainless Steel

MODEL YEAR : Civic 3 dr Hatch 1992-2000

M2 Motorsport. Stainless steel rear muffler back box looks similar to Toda Dolphin fits OEM Honda centre section and also M2 Motorsport part number M2-MHD-9601H (with resonator) or M2-MHD-9601-P ( no resonator ) . Polished stainless steel tig welded back box with 65mm tail pipe. Fits the Honda Civic 3 door hatch back cars. EG3EG4 EG5 EG6 EJ9 EK1 EK3 EK4.

find out more

M2-HD-EP2-RB / M2 MOTORSPORT EP1 EP2 REAR MUFFLER JDM SIDE KICKER 100MM SLASH CUT

£165.60

MANUFACTURER : M2 Motorsport

UNIT QUANTITY : 1

SIZE : 2.25" With 100mm Tail

SPECIFICATION : Rear Muffler

COLOUR : Polished

MATERIAL : 304 Stainless Steel

MODEL YEAR : EP1 EP2 2001-2006 - 1.4 & 1.6

Pro Spec Style rear muffler for Honda Civic EP1 EP2 3 door car (hatch back) 1.4 1.6 ( NOT 2.0)

find out more

FM-R318 / MINI COOPER S R53 40mm ALLOY RADIATOR

£108.00

MANUFACTURER : Fletcher

UNIT QUANTITY : 1

SIZE : OEM Replacement

SPECIFICATION : Big 40mm Wide Core

COLOUR : Aluminium

MATERIAL : Aluminium

MODEL YEAR : R53 Mini Cooper S

BMW MINI Cooper S R53 radiator was designed and engineered as a direct OEM fit; no cutting fabrication or modification will be required for installation. The radiator is made with a 40mm brazed aluminium core and TIG welded polished aluminium end tanks. Replacing the OEM radiator on a MINI Cooper S with an aluminium performance radiator from Fletcher will improve cooling capacity and keep the engine cool to prevent overheating. Maintaining the proper temperatures in the engine will help extend its life and improve its overall performance

find out more

M2-SPN-EP3-RB / EP3 REAR MUFFLER FOR 3 DOOR HATCH BACK TYPE R - TYPE S 2.0 - SPOON SPORTS STYLE

£165.60

MANUFACTURER : M2 Motorsport

SIZE : 65mm

SPECIFICATION : 65mm External Rolled Tip

COLOUR : Polished

MATERIAL : 304 Stainless Steel

MODEL YEAR : Civic Type R - Type S 2.0

SPOON Style rear muffler for Honda Civic EP3 3 door car.

find out more

M2-JN-302-2B / BLACK TUNER WHEEL NUTS M12 X 1.25 (20 nuts & key)

£23.94

MANUFACTURER : M2 Motorsport

UNIT QUANTITY : 20 nuts + 1 key

SIZE : m12 x 1.25

SPECIFICATION : Internal Tuner Nut & Key

COLOUR : Black

MATERIAL : Steel

find out more
DS-SL-P1943-FL / SUBARU LEGACY 2003-07 FRONT LOWER LIP

£106.80

MANUFACTURER : SPD Automotive Ltd

UNIT QUANTITY : 1

SPECIFICATION : Front Splitter Lip

MATERIAL : PU Plastic

MODEL YEAR : Subaru Legacy 03-07

MADE FROM PU - Fully Paintable - Light Weight - Black in colour

find out more

M2-2H009-0000-L / LEFT HAND SEAT RAIL FOR EVO X EVO 10

£114.95

MANUFACTURER : M2 Motorsport

UNIT QUANTITY : 1

SIZE : 290mm Centre Seat Holes

SPECIFICATION : Left Hand Side (UK)

COLOUR : Black

MATERIAL : Steel

MODEL YEAR : Mitsubishi EVO X

M2 Motorsport premium quality seat rails sliders for Mitsubishi EVO X - For seat brands such as Auto Style Border Bride Buddyclub Cobra Corbeau D2 Driftworks Koenig Mirco OMP Recaro Sparco Takata and just about any other seat that uses 290mm side mounts

find out more

M2-2H009-0010-R / RIGHT HAND SEAT RAIL FOR EVO X EVO 10

£114.95

MANUFACTURER : M2 Motorsport

UNIT QUANTITY : 1

SIZE : 290mm Centre Seat Holes

SPECIFICATION : Right Hand Side (UK)

COLOUR : Black

MATERIAL : Steel

MODEL YEAR : Mitsubishi EVO X

M2 Motorsport premium quality seat rails sliders for Mitsubishi EVO X - For seat brands such as Auto Style Border Bride Buddyclub Cobra Corbeau D2 Driftworks Koenig Mirco OMP Recaro Sparco Takata and just about any other seat that uses 290mm side mounts

find out more

M2-PP-26005 / VORTEX GENERATOR - MITSUBISHI EVO 10

£39.60

MANUFACTURER : M2 Motorsport

UNIT QUANTITY : 1

SPECIFICATION : Vortex Generator

COLOUR : Black

MATERIAL : ABS Plastic

MODEL YEAR : Mitsubishi EVO 10

find out more

M2-SRH-BMW02BL / MINI COOPER S 01-05 R53 SILICONE RADIATOR HOSES - BLUE | M2 MOTORSPORT

£40.80

MANUFACTURER : M2 Motorsport

UNIT QUANTITY : 2 Hoses

SPECIFICATION : Radiator Hose

COLOUR : Blue

MATERIAL : Silicone

MODEL YEAR : Mini Cooper R53 2001-2005

M2 Motorsport silicone triple re enforced temperature resistant hoses made from state of the art modern manufacturing techniques. For the best looks and performance it has to be silicone. Silicone hoses operate at much higher temperatures and pressures than other rubber hoses. Clean with soap and water as with any manufacture of silicone hoses they do not like solvent based agents.

find out more

M2-SRH-BMW02RD / MINI COOPER S 01-06 R53 SILICONE RADIATOR HOSES - RED | M2 MOTORSPORT

£40.80

MANUFACTURER : M2 Motorsport

UNIT QUANTITY : 2 hoses

SPECIFICATION : Radiator Hoses

COLOUR : Red

MATERIAL : Silicone

M2 Motorsport silicone triple re enforced temperature resistant hoses made from state of the art modern manufacturing techniques. For the best looks and performance it has to be silicone. Silicone hoses operate at much higher temperatures and pressures than other rubber hoses. Clean with soap and water as with any manufacture of silicone hoses they do not like solvent based agents.

find out more

CCI-3054-C-1500 / COMPETITION CLUTCH BMW E46 M3 STAGE 1 ORGANIC + LIGHT FLYWHEEL GETRAG

£499.01

MANUFACTURER : Competition Clutch

SPECIFICATION : Stage 1 & Flywheel

MATERIAL : Organic

MODEL YEAR : BMW E46 M3

35mm 10 SPLINE E46 M3 S54 ONLY GETRAG GEARBOX

find out more

CCI-3054-F-1620 / COMPETITION CLUTCH BMW E46 M3 STAGE 4 PADDLE + FORGED FLYWHEEL GETRAG GEARBOX

£634.80

MANUFACTURER : Competition Clutch

SPECIFICATION : Paddle Clutch & Flywheel

MATERIAL : Ceramic

MODEL YEAR : BMW M3 E46

35mm 10 SPLINE E46 M3 S54 ONLY GETRAG GEARBOX

find out more

CCI-3054-F-2100 / COMPETITION CLUTCH BMW E46 M3 STAGE 2 PADDLE + FORGED FLYWHEEL GETRAG GEARBOX

£594.00

MANUFACTURER : Competition Clutch

SIZE : 35mm Spline

SPECIFICATION : Paddle Clutch & Flywheel

MATERIAL : Kevlar

MODEL YEAR : BMW M3 E46

35mm 10 SPLINE E46 M3 S54 ONLY GETRAG GEARBOX

find out more

CCI-99138-2100 / COMPETITION CLUTCH BMW E36 M3 E46 DISC STAGE 2 - KEVLAR 240mm 29MM SPLINE

£116.52

MANUFACTURER : Competition Clutch

UNIT QUANTITY : 1 Disc Plate Only

SIZE : 240mm 29MM 10 SPLINE

MATERIAL : Kevlar

MODEL YEAR : M3 E36 - E46

find out more

CCI-15021-1620 / COMPETITION CLUTCH FORESTER 2.5 WRX 2006-8 STAGE 4 CERAMIC

£445.97

MANUFACTURER : Competition Clutch

SPECIFICATION : Stage 4 - Push Type

MATERIAL : Ceramic

MODEL YEAR : Subaru 2006-08 2.5 Litre WRX

find out more

CCI-15021-2600 / COMPETITION CLUTCH FORESTER 2.5 WRX 2006-8 STAGE 3 CERAMIC

£428.12

MANUFACTURER : Competition Clutch

SPECIFICATION : Stage 3 - Push Type

MATERIAL : Ceramic

MODEL YEAR : Subaru 2006-08 2.5 Litre WRX

find out more

CCI-16062-2600 / COMPETITION CLUTCH CELICA MR2 90-98 3SGTE STAGE 3

£336.22

MANUFACTURER : Competition Clutch

SPECIFICATION : Stage 3

find out more

CCI-3050-2600 / COMPETITION CLUTCH R53 MINI STAGE 3 - INC 6.25KG FLYWHEEL - CERAMIC

£624.76

MANUFACTURER : Competition Clutch

SPECIFICATION : Stage 3

MATERIAL : Ceramic

find out more

CCI-6073-2600 / COMPETITION CLUTCH 370Z STAGE 2 6 PAD CERAMIC (no bearing)

£446.84

MANUFACTURER : Competition Clutch

SPECIFICATION : Stage 3

MATERIAL : Ceramic

MODEL YEAR : 350Z 370Z 2007-2008 G35 G3

This segmented Ceramic material with a performance pressure plate will provide the ultimate in street and strip combinations. This assembly is suited for up to 150% increase in torque capacity. Provides quick but smooth engagement and extended life. 300 mile break-in recommended with this set-up. The 2600 Series kit includes a performance pressure plate a high torque sprung disc with segmented Ceramic facings 2007-2008 Infiniti G35 2009-2013 Infiniti G37 2007-2009 Nissan 350Z

find out more

CCI-3005-C-1500 / COMPETITION CLUTCH BMW M3 E36 STAGE 1 ORGANIC CLUTCH & FLYWHEEL

£499.01

MANUFACTURER : Competition Clutch

SPECIFICATION : Clutch & Flywheel

MATERIAL : Organic

MODEL YEAR : E36 M3

find out more

CCI-3005-F-1620 / COMPETITION CLUTCH BMW M3 E36 + E46 2.5 2.8 STAGE 4 CERAMIC & FLYWHEEL

£634.80

MANUFACTURER : Competition Clutch

SIZE : 29mm Spline

SPECIFICATION : Clutch & Flywheel

MATERIAL : Ceramic

MODEL YEAR : BMW M3 E36 - SEE OTHERS BELOW

BMW E36 M3 ST2 CLUTCH + FORGED FLYWHEEL 7.1kg 29mm 10 SPLINE FITS E36 2.5 2.8 M50 M51 M52 M3 S50 E46 2.5 2.8 M52 M54

find out more

CCI-3005-F-2100 / COMPETITION CLUTCH BMW M3 E36 STAGE 2 KEVLAR & FLYWHEEL

£594.00

MANUFACTURER : Competition Clutch

SPECIFICATION : Clutch & Flywheel

MATERIAL : Kevlar

MODEL YEAR : E36 M3

find out more

SPJM302 / CORK ROCKER COVER GASKET A SERIES

£1.20

MANUFACTURER : Fletcher

UNIT QUANTITY : 1

SPECIFICATION : Rocket Cover Gasket

MATERIAL : Cork

MODEL YEAR : A Series Engine

find out more

LS-SUB01-FP25G / GASKET AND NUTS FOR LOWER DOWNPIPE - 01-05 - SERVICE PART

£8.40

MANUFACTURER : M2 Motorsport

UNIT QUANTITY : 1 Gasket 2 Nuts/Bolts

SPECIFICATION : Gasket

MODEL YEAR : Subaru 01-05

This is a lower cat or de cat pipe gasket and bolts for Subaru Impreza 2001-2005 Fits (LS-SUB01-FP25L & M2-SUB01-FP25L)

find out more